By default, Google Search display only 10 search results per page. Do you want to view more than 10 results on Google Search pages? You can easily do this by changing search settings of Google search. You can configure to view more than 10, 20, 30, 50 search results with upto 100 results for any keyword on single Google search result page.
More than 10 Google search results per page
1. Open Google search (google.com) on your computer.
2. Then goto  Setting > Search settings at the top.
3.Scroll down to Number of Results. Change the number form 10, you can increase to 20 or more as per requirement.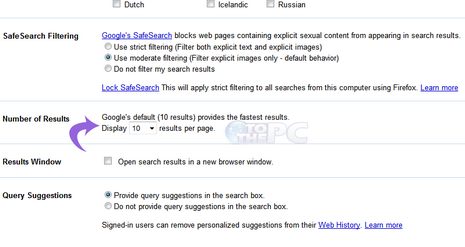 4. Click on Save Preference and you are all set to browse Google Search result pages with more results per page as per configured settings.