Over a period of time, a big dump of temporary and intermediate files, folders and register entries build up. This should be deleted on regular basis, otherwise computer tends to slow down. There are manual ways to delete such temporary stuff and keep the computer running fast.
However, with the help of free utilities you can speed up the process of deleting temporary stuff and make sure all the stuff that should be deleted is gone. CCleaner is a very good freeware tool in assisting the process of deleting temporary stuff. It removes unused files from your system – allowing Windows to run faster and freeing up valuable hard disk space.
It also cleans traces of your online activities such as your Internet history. It Cleans the following:
Internet Explorer - History, cookies, Autocomplete form history.
Firefox – Temporary files, URL history, cookies, download history.
Opera – Temporary files, URL history, cookies.
Windows – Recycle Bin, Recent Documents, Temporary files and Log files.
Registry cleaner – Advanced features to remove unused and old entries, including File Extensions, ActiveX Controls, ClassIDs, ProgIDs, Uninstallers, Shared DLLs, Fonts, Help Files, Application Paths, Icons, Invalid Shortcuts and more. It also comes with a comprehensive backup feature.
Third-party applications – Removes temp files and recent file lists (MRUs) from many apps including Media Player, eMule, Kazaa, Google Toolbar, Netscape, MS Office, Nero etc.
CCleaner: Website – Quick Tour – Download 
CCleaner is best suited to remove temporary files from the computer. Even though it can remove third party applications and related registry enteries, Revo Uninstaller can do that process in better and more efficient manner.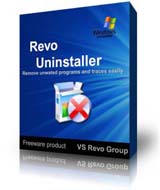 Revo Uninstaller helps you to uninstall and remove any unwanted application installed on your computer. After the program's regular uninstaller runs, you can remove additional unnecessary files, folders and registry keys that are usually left over on your computer. Key features of this software include:
Junk Files Cleaner – find and remove unnecessary files from your computer.
Browsers History Cleaner – erase the web site history, visited pages history and temporary internet files of Firefox, Internet Explorer, Netscape and Opera web browsers.
Windows History Cleaner – remove the history of recently opened files, delete temporary files, remove usage tracks and other history items that are saved by Windows.
Unrecoverable Delete Tool – erase files and folders forever; Be sure that nobody could recover your files and folders after deleting!
Revo Uninstaller: Website – More Info – Download
CCleaner is good option to remove temporary stuff, while Revo Uninstaller get thumbs up for the process of removing third party application and its related temporary files, registry entries.
Both these tools help in removing all the temporary stuff and result in more free space and faster computer. Take your pick!