How HOT is your computer? Well, you can put a hot babe wallpaper and it will for sure look hot. Getting more technical – How Hot is your CPU? Wallpaper logic is out of the window and some serious temperature measuring of CPU, Hard drive and motherboard is inn.
Measuring and monitoring CPU temperature is not a critical or must do step for all computer users. By default, fans in the computer keep things cool inside. In some cases, you still want to measure temperature of CPU, hard drive etc. So, here goes 3 cool tools:
1. Motherboard Monitor –This tool can sense temperature from CPU, hard drive, GFx and motherboard. It gets information from the sensor chips on your Motherboard in your Windows System Tray.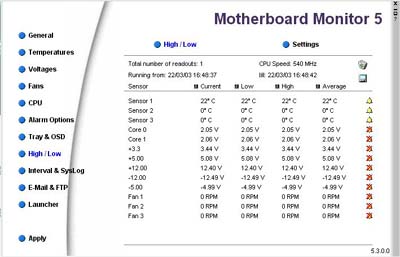 It can also sense Fan speeds and protect hardware from over-heating. Supported with user configuration, it can even shut down the fan in an event of over-heating. Motherboard Monitor is compatible with Windows 95,98, ME, NT, 2000 and XP. Download & More Info
2. Core temp – As the name suggest, this small utility allows you to measure temperature of your computer's core – CPU. Besides Windows XP, this tool also works on Windows Vista. It can show temperature of each core of your processor.
You can see real time CPU temperature with the help of this utility. It also has a logging feature, allowing a you to easily record the temperature of processor(s) over any period of time, then the data can be easily transferred into an excel datasheet for easy graphing. Download & More Info
3. SpeedFan – It can show temperatures, voltages and fan speeds. It can also show S.M.A.R.T. data from the hard disk. It provides this information by accessing digital sensors available on your computer.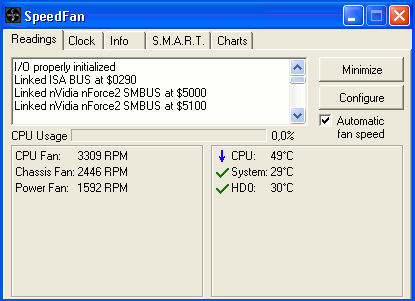 If your hardware allows it and you can configure SpeedFan to change fan speeds depending on system temperatures, thus reducing overall noise. Main windows provides all the possible details of speed and temperature. To access other information like S.M.A.R.T. data of your hard drive, check other tabs of the utility. Download and More Info