Do you want to know the temperature and fan speed of your MAC computer? Temperox utility comes real handy in revealing such fine details. It monitors the Temperature of CPU Bottomside, CPU Intrepid Bottomside, Power Supply Bottomside and the Battery.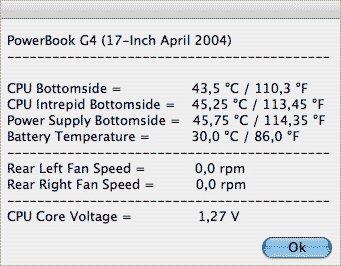 Related – 3 Cool ways to Measure CPU / Computer temperature
It displays temperature information in both Celsius and Fahrenheit. It also monitors the Speed of rear left Fan, rear right Fan and the CPU Core Voltage. Download Temprox and see temperature and fan speed details in few simple clicks on your MAC computer.