Do you want to audio / video chat with friends on Windows PC from your MAC system? You can easily do this using latest Microsoft Messenger (beta) software. You can login into Microsoft Messenger and chat using Live ID, which is also used for MSN messenger, Hotmail and other Microsoft services.
Chat with Windows friends from MAC system
Microsoft Messenger for Mac allows you to chat with friends using Windows Live Messenger 2009 on their Windows 7, Vista or XP computer. Hence, besides quick and easy audio / video chats – you don't have to worry if destination friend contact is using MAC or Windows powered system.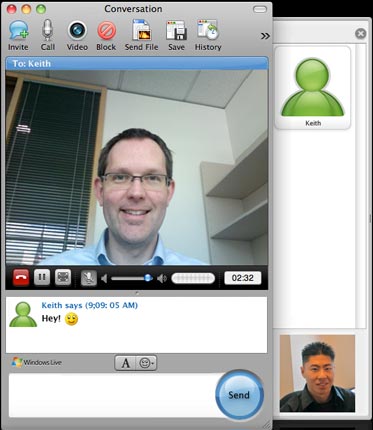 To summarize, MAC users need Microsoft Messenger while Windows user need Windows Live Messenger 2009 for making audio, video calls.
Download Microsoft Messenger
Operating system support – Mac OS X v10.5 (Leopard) or a later version of Mac OS). Requires usual headphone, webcam for audio – video calls. Download Microsoft Messenger (~22MB).