Do you want to automatically listen to text on your Windows or Mac system? This is possible with text to speech conversion functionality. You can read any text aloud using free TTS (text to speech) software program. Following are few free text to speech programs that you can use for listening to text and saving them as audio files.
1. Balabolka: free, portable, Windows
Balabolka is a neat full featured free software for text to speech conversion. This program can read the clipboard content, view the text from DOC, EPUB, FB2, HTML, ODT, PDF and RTF files. It also allows you to save the on-screen text as WAV, MP3, OGG or WMA file.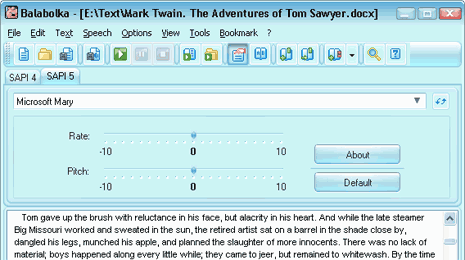 It uses various versions of Microsoft Speech API (SAPI) and allows to alter a voice's parameters, including rate and pitch. Best part, it is also available in portable version and supports Windows 2000, XP, 2003, Vista and 7. To get started, select the text and click play button to hear the text aloud.
2. Natural Reader: free, Windows & Mac

Natural Reader offer free Windows and Mac version of its text to speech software. It allows you to listen to any text on your PC. Just select text within any Word processing application and then click Play button on the floating bar of the Natural Reader program.
Free version offer unintrusive means to listen to any text content on your computer. It can read text from MS Word, Webpage, PDF files and emails into spoken words with Microsoft voices.
3. Panopreter Basic: Free, Windows
Panopreter Basic is a free and easy to use text to speech software program. It can read text file, rft file, MS word document and html web page with the voice you select. It supports batch file conversion and allows you to create audio files in wave(.wav) and MP3(.mp3) format. It also support multiple languages including: Support English, French, Spanish, German, Chinese, Japanese and more.
4. eSpeak: Command line, Windows & Linux
eSpeak is a free command line tool for reading text on your Windows or Linux system. It includes different Voices, whose characteristics can be altered. You can also produce speech output as a WAV file using this tool. It is a small free software program that support number of languages.
5. Old free Text to Speech software
There are few old TTS (Text to Speech) reader software program that may work on your computer. If you are using old version of Windows, then these free software should work. Checkout Sayz Me and Ultra Hal TSS free text to speech reader software for Windows.
Besides above, there are number of online text to speech services or tools to listen to text. They are better, if you plan to listen small amount of text without having to install any TTS software for the same.