Are you interesting in knowning temperature condition of hard drive(s) on the computer? DiskTemp is free command line utility to see Hard drive temperature (in degree celcius). This small program accesses the SMART data provided by some hard disks and the BIOS for the final temperature of the hard drive.
See HD temperature with DiskTemp utility
1. Download DiskTemp utility [weblink] & unzip file.
2. Open the folder and copy DiskTemp file.
3. Paste that file in C drive (goto My Computer > C drive)
4. Click Start > Run, type cmd in Run box and click OK.
5. In Black command prompt window go to C:/> root. Then type disktemp.exe and hit the Enter key.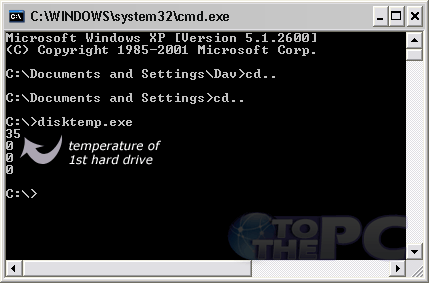 Also See – 3 Cool ways to Measure CPU / Computer temperature
It will show the temperature details like (1st hard drive, 2nd hard drive, 0, 0). Above screenshot shows temperature of first hard drive as 30C. One handy utility to keep eye on Hard drive temperature. If you want to see final temperature in Fahrenheit instead of Celsius, then use free unit converter program for celcius to fahrenheit conversion.