Youtube is experimenting with 3D viewing of Youtube videos. It is testing with a stereoscopic player for watching videos in 3D. Such videos have optional drop down box (see image) with number of options like: red/cyan, focus thru, cross-eyed, mirror split, left image only etc.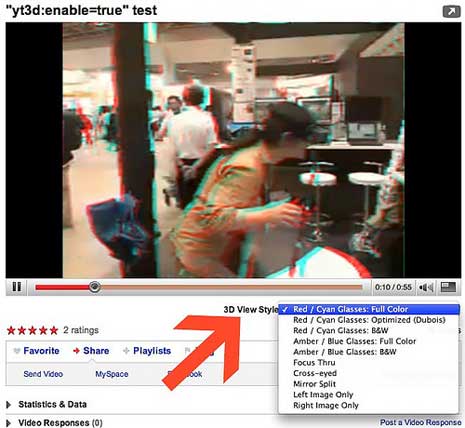 You can view same video with different options and visualize different aspect of same videos in focus. To view such videos you need to add following tags:
yt3d:enable=true Enables the view mode.
yt3d:aspect=3:4 Sets the aspect of the encoded video.
yt3d:swap=true Swaps the left and right sources.
This is purely an experimental project by a Google employee Peter in his 20% of free time. This for sure can be enhanced further and add new dimension of viewing videos on web. See 3D enabled Youtube videos [source]