Do you want to access cache folder content of Opera browser? Opera Cache View is a portable utility that display contents of cache folder of Opera web browser. Utility window show list of file currently stored in the cache. For each file stored in the cache, you can view details like: URL, Content type, File size, Last accessed time and last modified time in the server.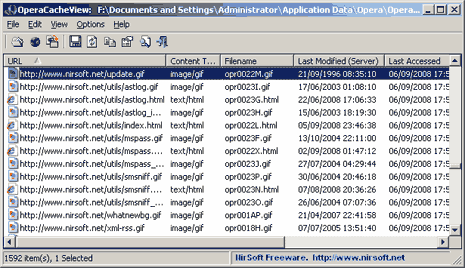 Related – Access contents of Google Chrome Cache Folder
Besides viewing contents, you can select one or more files and extract them to a specific folder. You can also copy URLs list to the clipboard and further save them for future use. It is a portable utility and does not require install – just download, unzip and double click to launch the utility.
It even works even when Opera web browser is not installed on the system but cache folder exists from previous install. Download OperaCacheView (works on Windows 7, Vista & XP).