If you are involved in typing lot of text, then portable Notepad ++ should save lot of time and hassles of management. It is a portable app which allows development on the GO.
There is nothing to install and it support all cool features of notepad++ text editor packaged as portable. It has support for multiple languages and an extensive plugin system. Features include:
Syntax Highlighting and Syntax Folding (C, C++, HTML, ASP, CSS).
User Defined Syntax Highlighting.
Auto-completion and Multi-Document.
Regular Expression Search/Replace supported.
Full Drag 'N' Drop supported.
Zoom in and zoom out.
Multi-Language environment supported.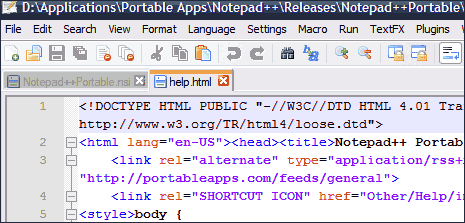 It has lot of features to help you in text editing right from a USB drive. You need to download additional files for  spell-check. Download portable Notepad++ for note-taking and development on the go. Very handy and useful!