Is task manager disabled on your Windows PC? This may happen due to number of reasons like no admin privileges, system file changes, effect of virus and so on. You can easily enable or disable Windows task manager without need of administrator privileges using "Task Manager Enabler". It is a portable tool for toggling and switching status of task manager on Windows.
Use Task Manager Enabler program
1. Download Task Manager Enabler tool. Unzip downloaded file to launch the program.
2. Click "Disable" or "Enable" button to disable or enable Windows' task manager respectively.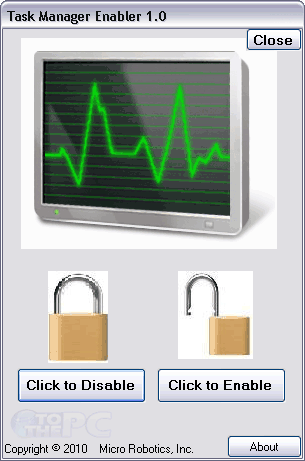 For sure one quick and easy to control Windows's task manager status without having to install any extra software on the computer. Also, with no requirement of administrator privileges – any Windows user can use this program for turning task manager on or off. You can also explore other tools to enable task manager disabled as a result of virus or system file changes.