Suddenly, Windows task manager has been disabled / grayed out and you cannot click on option to open it. Also, cannot open folder options to enable viewing of hidden files / folders, Windows search box does not open – these are few after effects of virus attack on Windows computer. Even after cleaning up the virus these after effects remain which can be easily removed using free portable tool "Regain Power".
Regain Power to re-enable disabled features
1. Download Regain Power program on PC.
2. Unzip & double click "Regain Power" icon to launch it.
3. Click to check / select features you want to enable.
4. Then click OK and restart/ re-login to see features enabled.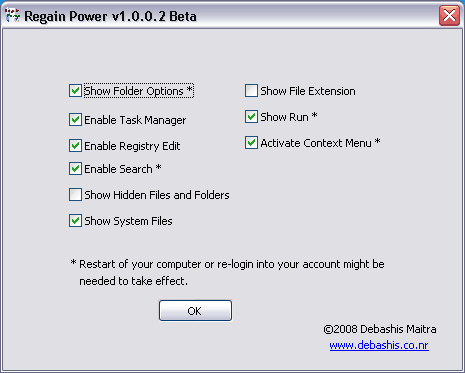 Regain Power enables following features
Show Folder Options, Enable Task Manager, Enable Registry editor, Enable Windows Search, Show Hidden files and folders, Show System files, Show File extensions, Show Run and Activate Context menu.
Grab this cool tool to re-enable Window features disabled as a result of virus attack. Make sure you also scan computer to confirm no virus currently exists on the system.