At times it becomes difficult to track specific file contained in a folder. One better way to index and shows contents of a folder is by generating automatic HTML webpage showing folder contents. Folder2Hyperlinks tool make this all easy by creating HTML webpage of selected folder contents with exact hyperlinks to files contained in the selected folder.
Publish folder contents as HTML webpage
1. Download Folder2Hyperlinks program on computer.
2. Launch the program after installation.
3. Goto "Files > Open Folder", select folder of your choice.
4. Then Select all or few files to be included in final webpage.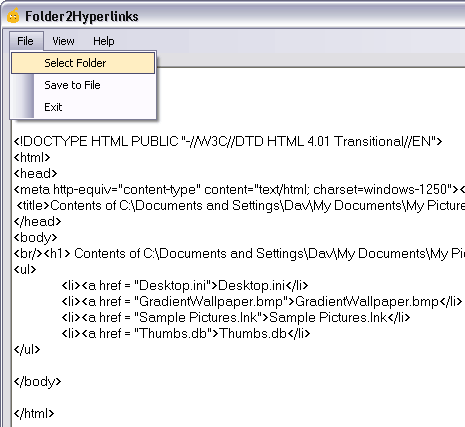 5. Click OK and HTML codefor webpage will appear.
6. Goto "File > Save to File", to save HTMLwebpage.
Double click on saved HTML webpage to view click-able file names of the selected folder. You can also include files contained in subfolders, goto "View > Options"  and check option "Add files from all sub folders". Simple yet effective tool to quickly index contents of any folder as easy to view HTML webpage.