Do you want to quickly change ownership information of a specific file or a folder containing multiple files? File Owner Changer 'chown' is a free portable utility that makes this all easy and quick. It has simple interface allowing you to select any file / folder and then assign specific (new) user as its owner.
Change ownership info of file or folder
1. Download File Owner Changer utility.
2. Unzip and double click to launch the utility.
3. Browse to specific file or folder using browser window.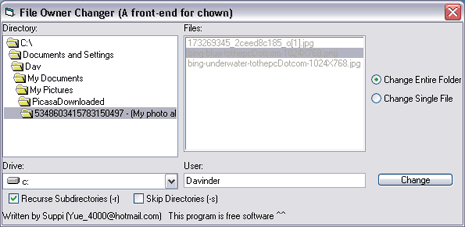 4. Enter new name in the 'user' field.
5. Click Change button to update new onwership info for selected file or folder. It works fine on Windows 7, Vista and XP systems.