"… which program applications are crashing on my Windows 7 or Vista computer?" You can easily get answer to such question using free portable utility "AppCrashView". It displays details of all application crashes that has occurred on your system. Crash information is extracted from .wer files created by the Windows Error Reporting (WER) component of the operating system.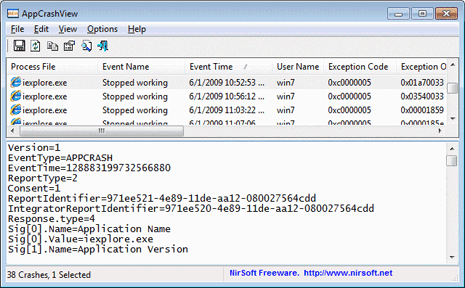 For each crash event it show details like: process file, event name, event time, username, exception code etc. Besides viewing information, you can save crash information as text, csv, html, xml format using this utility.
Download AppCrashView, unzip and double click to launch the utility (it does not require installation). If your Windows 7 & Vista system crashes often, grab this tool to diagnose program applications causing issues.