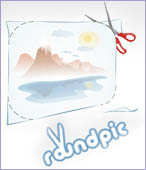 Here is another tool to dress up and play with your images. Roundpic is a free online tool for making anti-aliased rounded corners for avatars and images.
In just 2 simple mouse clicks this tool can produce your favorite image with rounded corners.Besides you can also configure the rounded web 2.0 look for your images.
Here is the 2 click procedure: Click One – Click on 'browse' button for image location or type URL of an image. Click Two – Click on 'round it' button. It is all done!
You will get image with rounded corners and now you can configure further settings for customized look. You can adjust the amount of rounded-ness using a slider. Besides you can also configure the width and height of image. It also give you option to select Image quality, by default it is set to 85%.

Roundpic: Click here to visit the website
Indeed a very useful and time saving online tool to add bit of professional and web 2.0 look to your favorite Images and avatars, what say?