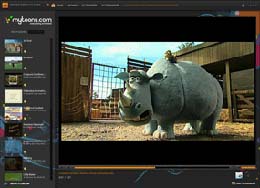 Based on Adobe Air platform Adobe has launched 'Adode Media Player'. It is a desktop application that allows you to view or download videos from associated content partners.
With this sleek player you can access content from MTV, Nickelodeon, CBS, Blip.tv and many more.
You can automatically download new episodes of your favorite shows and video podcasts. Besides download, you can manage and play your personal collection of rich media videos right from your desktop.
It provides easy to use video scaling options (full window/full screen, actual size, scale up), keyboard controls (play, pause, fast forward, rewind), and a resume play option that starts playback where you last stopped the video.
You can customize the player environment and can even have your own marathon of all the episodes of your favorite show with one click of the play button. Checkout Adobe Media Player