Are you looking for no frills word processor application for your MAC system? Bean is a simple, free and open source Word processor for MAC OSX systems. It allows simple task of writing text (supports images) and saving it for further editing or sharing with others. It is not replacement of Microsoft Word but a small word processor for quick word writing tasks.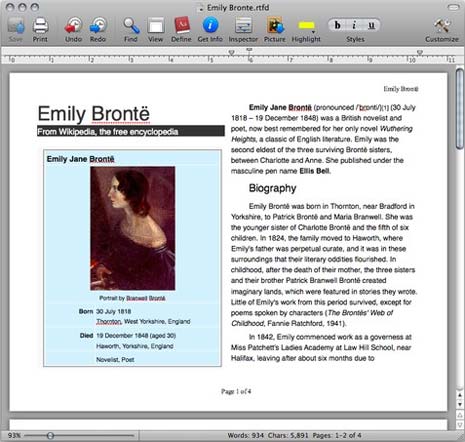 Related – 5 Free Word Processing Software
Features of Bean Word processor
1. Supports autosaving and does date-stamped backups.
2. It has Inspector panel with lots of sliders.
3. Show live word count & Info panel for in-depth statistics.
4. It has a zoom-slider to easily change the view scale.
5. Supports alternate colors option (e.g., white text on blue).
6. It has floating windows option (like Stickies has).
Supported File Formats
Bean natively reads and writes these file formats like: rtf format, rtfd format, bean format, txt, html and webarchive format (Apple web archive format). Bean transparently imports and exports formats like: doc, docx, odt and xml. Bean can export to formats like: html, pdf, doc and rtf.
Download Bean free word processor software for your MAC OSX system. It is simple and does simple word processing task with ease!