MAC computer users can now access exclusive app store. MAC app store feature variety of apps for MAC users to do more on their MAC computer. You can purchase apps and download them directly on your MAC computer. Also, if you have an existing credit balance on your iTunes Store account -that balance will be shared across the iTunes Store and Mac App Store.
Browse & purchase apps in MAC app Store

1. Make sure you have installed MAC app store on your MAC computer.
2. Then in the Apple main menu, click 'App Store' option to launch MAC app store on your MAC computer. Alternatively, you can click App Store icon (see image on right) in the dock.
3. Once MAC app store is opened, you can browse apps by categories like games, productivity and so on.
4. You can also search for apps directly using search box at top right part of MAC app store. Further, sort search results by Relevance, Most Popular, Release Date and Customer Rating.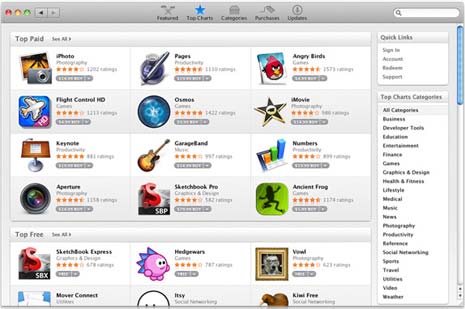 5. Once you have selected app that you want to purchase and download, click Buy button.
6. You will get prompt to login using Apple ID. If you do not have Apple ID, you can easily create free Apple ID on apple.com website.
7. The selected app will begin downloading automatically and the app icon will be added to your Dock with a progress bar below the app icon.
8. Once the app is done installing, the progress bar below the app icon will go away. Then you can use app on your MAC computer.