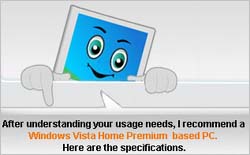 Memory, Hard drive, processor, graphic card – these words can be very alien for a new PC user. While buying  first PC one tends to check offers in newspapers, local market and of course those friendly suggestions.
Making this task real easy is MyRightPC.This Microsoft website specifically for Indian users provide PC specification information as per requirement and usage details provided by you.
In their own words: "…I understand, how tough buying a PC can get. With so many options and configurations available, even a super computer can get confused! I make your task a lot easier by filtering the choices based on price, configurations and your needs."
"…Not just that, I also help you connect with your closest dealers through emails and SMS. Or if you leave your contact details with me, I allow the dealer to get in touch with you."

You just need to answer few multiple choice questions to decide on the final specification based on your responses. Besides getting the detailed specification result, you also get price information in Indian Rupees.
In case you are planning to buy your first PC and don't know where to start. Well, MyRightPC is just the right place to search and finalise your first PC.
Related – Ultimate PC, an Exclusive place for Vista Ultimate Users