Do you want to use Gmail email service in different language? Gmail support number of language interface and you can easily switch to display language of your choice. You can change display language of Gmail email account from your Gmail account settings.
Customize Gmail's display language
1. Login into your Gmail account by going to gmail.com
2. Click on 'Settings' at top right.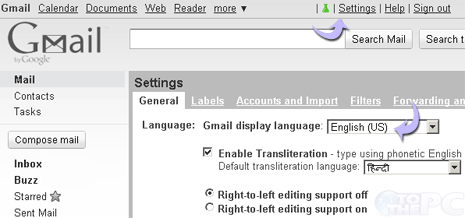 3. Under 'General Settings' tab, use drop down box next to 'Gmail display language' to change language of your Gmail account.
4. After selecting new language, click 'Save changes' button at the bottom. Gmail should load email interface in new selected language.
Gmail supports lot of languages including: Amharic, Arabic, Basque, Bengali, Bulgarian, Catalan, Croatian, Czech, Danish, Dutch, Estonian, Finnish, French, German, Greek, Gujarati, Hebrew, Hindi, Hungarian, Icelandic, Indonesian, Italian, Japanese, Kannada, Korean, Latvian, Lithuanian, Malay, Malayalam, Marathi, Norwegian, Polish, Portuguese (Brazil and Portugal), Romanian, Russian, Serbian, Simplified Chinese, Slovak, Slovenian, Spanish, Swahili, Swedish, Tagalog, Tamil, Telugu, Thai, Traditional Chinese, Turkish, UK English, US English, Ukrainian, Urdu, or Vietnamese.