Search engines like Google, Bing continuously improve their ranking procedures to provide best and most relevant results to users. It can be very frustrating when you click through a weblink in search results promising desired content but it offers nothing in real. Such websites are often called spam websites and you can easily report them to Google for removal.
Manual Spam content reporting
1. Click here to report spam website using Google Webmaster tools.
2. Login using your Google or Gmail account.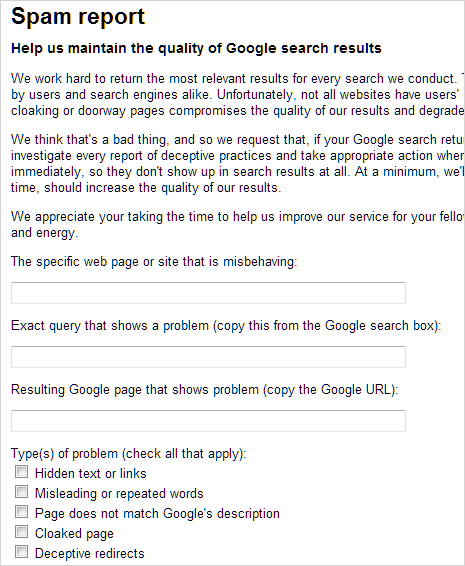 3. Then enter details of spam website URL and other details.
Also mention specific problem like Hidden text or links, misleading or repeated words, page does not match Google's description, cloaked page, deceptive redirects, doorway pages, duplicate site or pages or other reasons for reporting website as spam.
Chrome extension for quick spam reporting
Google Chrome users can download Google Webspam Report Chrome extension for quicker reporting of spam websites or content on the internet. [via Google Blog]
After installing this Chrome extension, you will see report spam button under each search result listing on Google search. Hence you can quickly report spam weblinks showing up in Google search in Google Chrome browser. Alternatively, you can click 'Google Webspam Report' button on Chrome menu bar to open webpage for reporting web spam.