Using proper Power Scheme at specific time help save laptop power and allows prolonged usage. SchemeHK is a free portable utility that allows you to switch between various power schemes with quick keyboard shortcut hotkey. You can quickly switch to a different power scheme anytime while working on your PC.
Switch Power Scheme with hotkey
1. Download SchemeHK utility (works fine on Windows 7, Vista & XP).
2. Unzip & open folder XP or Vista/7 as per your current operating system.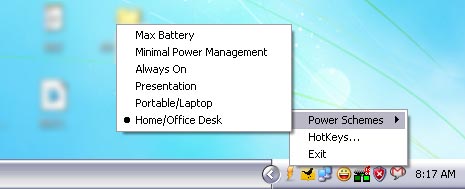 3. Double click program file to launch the tool. It sits on the system tray.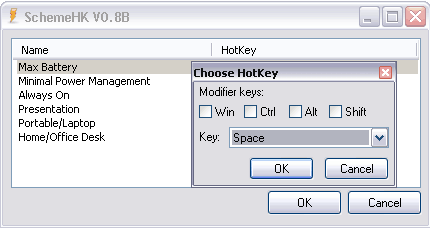 4. Right click on the icon on system tray and click "Power Schemes" for available options. Click on "Hotkeys"options to assign hotkeys for various power plans.
Once it is setup, you can quickly toggle between different power schemes with assigned hotkeys. No more messing around with multiple windows in trying to open and then change current power scheme, what say?