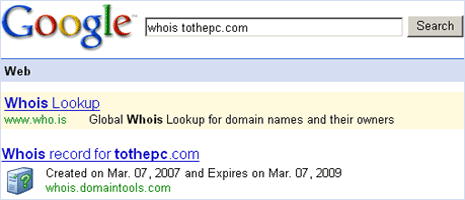 Google has relaunched WHOIS lookup feature. This feature lasted for 2 weeks in 2004 and has been revived in 2007. Google has partnered with DomainTools.com to show brief WHOIS information of any website.
It only show the creation and expiry date of a domain name. For more informaton, click through to the domainstools website link in the search result. Also, as pointed by Joseph at Googlified – this does not workwith localised Google like google.co.in
Google India (google.co.in) does not have this feature, you can use google.com to tryout this feature. Click here for an example.