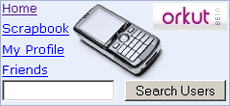 Here is one more way to stay connected with your Orkut friends – Orkut on Mobile. Google has launched mobile version of Orkut which support basic Orkut tasks.
Point your mobile browser to m.orkut.com and login using Google Account. Besides mobile, you can also access this in Internet Explorer or FireFox browser. It will be like Orkut without bells and whistles. You will see stripped down version of Orkut with no usual formatting and just clean minimalist interface (loved it!)
This 'Orkut for mobile' at m.orkut.com can behandy for:
Accessing Orkut on your mobile phone.
Use m.orkut.com if Orkut.com is blocked, might work!
Stay connected to Orkut from PC using low speed internet.
With Orkut mobile version you can access scrapbook, check profiles, accept/deny friend requests and search Orkut. However, as pointed by Inside Orkut you can not view communities. as every attempt brings up the infamous "bad, bad, server" error. Tempted and interested? Click here to test drive in your browser (FireFox recommended). Bookmark this URL (m.orkut.com) for mobile access.