You can easily extend display of your Windows 7 PC to external devices like 2nd external monitor or a projector. Windows 7 allows automatic configuration of settings when an external devices is connected to the parent computer. You can connect external display to watch Youtube, Netflix, Hulu HD videos on high definition external display instead of PC or laptop screen.
Duplicate or extend Windows 7 laptop display
1. With laptop and external monitor powered OFF, connect external monitor to laptop using HDMI or VGA cable. Look for either of ports on the side of your laptop or back of PC's CPU tower.
2. After connecting cable, turn ON your Windows 7 computer and then external display.

3. By default, Windows 7 will duplicate laptop display on the external display. Press Win + P keys to toggle display type among: computer only, duplicate, extend and projector only.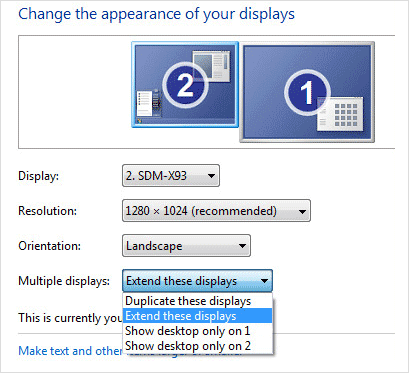 4. To configure more settings like changing resolution on external display, click start and type connect to an external display to open screen resolution settings under display.
 Alternatively, you can right click on desktop and click 'screen resolution' option for same settings box. You can customize display settings like screen resolution, orientation easily using this settings dialog box.