WebM is an upcoming video format technology which could become very big in future. It promises to be universal format for HTML 5 technology web videos. Do you want to convert and create WebM (vp8) format videos from exisiting videos of other formats? You can use easily do this using free webM (vp8) converter "Miro Video Converter".
Miro Video Converter for WebM files
1. Download Miro Video Converter on your computer. It is a free and open source video converter. After download, install the program for usage.
2. Drag video file to program window or click "Choose file" to select and load video file into program for conversion.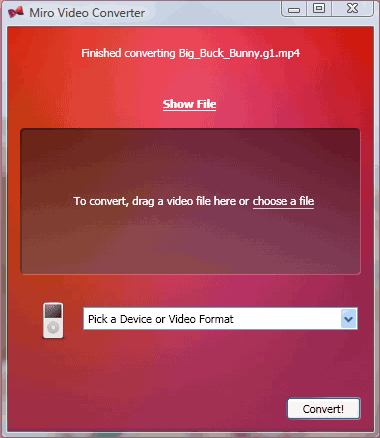 3. Select output video format type from the drop down box at the bottom.
4. Click "Convert" button to convert selected video into specified video format.
This free tool allows you to convert videos to MP4, WebM (vp8), Ogg Theora for Android, iPhone, Droid and more.