For starters, creating HTML webpage can be a huge manual task. ValmaWord program makes this all easy by converting Microsoft Word (doc, docx, txt) document into HTML format. This free tools allows you to view any text or Word document in HTML format with number of features for output customization.
ValmaWord for Word doc to HTML conversion
1. Download ValmaWord program [2MB, Xp and Vista support].
2. Install the application & launch(Start > Program > ValmaWord).
3. Click "Open Document" icon to load text from Word doc, docs, txt file. Alternatively, you can paste or manually type text in the application window.
4. Use different options to customize text, placement of text.
5. When done with editing, click HTML button to get output. There are two options for HTML output (automatic formatting and no-automatic formatting).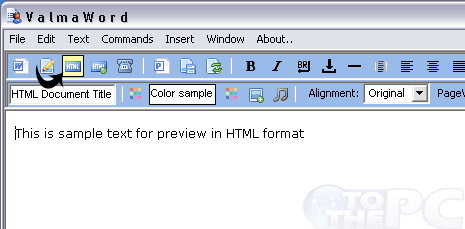 ValmaWord is easy to use program loaded with number of features for neat looking output. It is a free to download and use program for quick HTML output from text / word documents.