A Torrent junkie will know about the concept of downloading and accessing torrents. Things get difficult if you want to share a torrent file with a friends who does not even know torrent.
One option is explaining the concept of torrents and steps he/she needs to perform in order to download and access torrent file content. Other option is more easy and less time consuming – using 'Torrent2exe' web service.
Enter the torrent file URL or upload the torrent file to the server. Automatic download of a small program starts and will do all the work for you. Conversion of a torrent file into an exe file eliminates the need of a bittorrent client.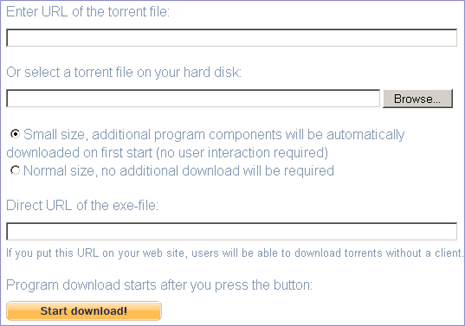 After converting torrent files into exe files, you can publish direct exe files on your blog or website. You can also use special script to bring this functionality on a torrent website.
Torrent2Exe is one easy way to share and access torrents specially with friends who don't know about torrents or don't want to install torrent client.