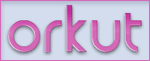 Orkut themes made colorful debut long back. Since then, besides default Orkut themes – we have seen number of Orkut themes like themes featuring bollywood stars.
Still not satisfied with Orkut themes currently available? Well, you can create your own Orkut theme in few simple mouse clicks (even with your picture as background). Here is simple procedure:
Head over to this Online Orkut Theme Generator
Enter URL of image to be used as background.
Enter name for your theme (type your profile name!).
Click on 'create theme' and its all done.
Then download your own freshly created Orkut theme and install it (needs Greasemonkey Script). Need help with this? Click here for complete intructions and follow through. Happy Orkutting!
P.S. It does not show properly in IE7 -Â use Firefox to access it.