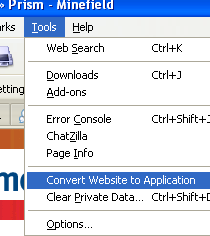 Prism is a standalone web browser than can launch any web application as a desktop application.
You can access web services like Facebook, Picassa as independent services on your computer. Well, this was history. With new updated version using Prism is more easy and simple.
Now, there is no need to install standalone Prism application. You can simply install Prism FireFox extension or plugin and access Prism with your FireFox browser.
After you install the Prism FireFox extension, browse to a web app, then select Tools > Convert Website to Application. Besides the basic functionality of transforming a web app into a desktop app, you can also pick a specific icon or favicon for various web apps.
It places each web app into its own process/profile so they don't interfere with each other, which also makes it possible to install a web app twice and use it simultaneously with two different user accounts.
Details: Prism for Firefox – More Info by Mozilla Labs
With Prism you can interact and use various new web applications like desktop applications, the traditional way!