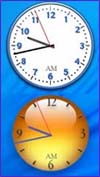 Windows Vista has one jazzing looking analog clock in the sidebar gadgets. Do you miss the same in Windows XP? Well not any more. Now you can get similar cool analog clock on your Windows XP desktop without hogging system resources.
This is possible by ClocX, an analog clock application supported by Microsoft Windows 98/ME/NT/2000 XP/2003/Vista. You just need to download, install and configure to get that beauty on the desktop screen.
It supports number of languages and is absolutely free software. Key features of the software include:
256 levels of transparency with mouse-over transparency function.
Changeable & configurable styles (24 PNGs and 7 BMPs included).
Advanced Options (unmovable, always on top, pin to desktop).
Configurable alarms with ability to show alarm window, play sound.
Added simple calendar.
ClocX: Website –  FAQs – Download
Also, it supports automatic start with Windows (for all users) or with user login (only for your user). Besides hearing sound you can also configurable alarms to execute applications and shutdown computer.
A small utility with lot of functions to play with and of course you can change the look of your clock. [via]