Are you bored of usual Email IDs like abc@hotmail.com, abc@yahoo.com etc. Here comes a refreshing change. Do you want an email ID like: abc@clubaishwarya.in or abc@delhirocks.com ???
If answer is yes, then Coolhotmail is the service you need. Microsoft has launched this unique service in India, where users can get to chose unique customized Live Hotmail id's from a list of over 130 names/domains.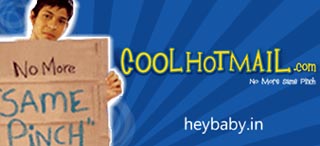 There is huge list to choose from based on different traits. Like starting with fans of movies, you can have email address on IDs like: clubabhishek.com, clubasin.com, clubkareena.com and many more.
Based on the city you live in options are: mumbairocks.in, goarocks.com, delhi4u.in and many more. There are more options based on your personality like: iamcrazy.in, iamhot.in, lover4life.co.in and many more.
There are more options based on your liking and individuality like: chauka.co.in, ilovechess.in, memyself.in, ringtring.co.in and many more
Very refreshing and creative concept targeted at Indian Email users, Why wait? register your ID at your favorite domain at CoolHotmail website.
In case domain/name you were looking for is not available there, then request here. Microsoft is listening !