Windows XP, Vista and upcoming Windows 7 have different versions which may confuse Windows users on which upgrade path to follow? Microsoft has released official chart giving information on which upgrade method to use for upgrading from specific version of XP / Vista to specific version of Windows7 operating system. To get going: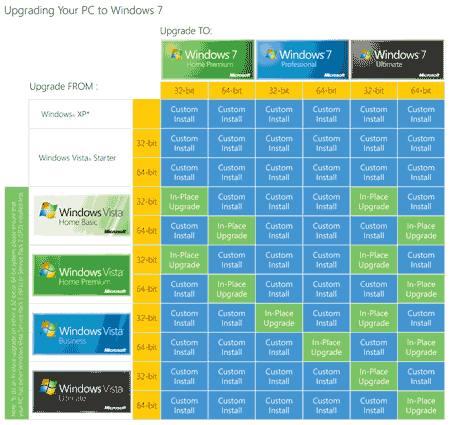 1. Click here to view enlarged version of above chart.
2. Identify if your current Windows is 32 bit or 64 bit.
3. Decide, to which version of Window 7 you want to upgrade.
4. See specific column in chart for: custom install or in-place upgrade option.
Custom install means you can replace existing operating system with Windows 7 OS. This will result in lose of existing date and application on the computer, hence backup is required before Windows 7 install. Alternatively, you can install Windows 7 on separate partition on your computer and use both existing XP/Vista and new Windows 7 on same PC (no data lose).
In-place upgrade option allows you to switch or upgrade from existing operating system to new Windows 7 without lose of existing files, settings and programs 0n Xp/Vista computer.