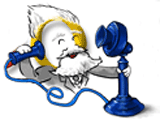 US telephone users has gone through this headache of Telemarketers calling on their landline or mobile phones many times in a day. This trend is spreading like wild fire in India as well.
As reported ealier, you can register with your specific service provider and get freedom from Telemarketers calling you day in and out.
Freedom? Well, that procedure did not bring any freedom and only created confusion. Each service provider followed different procedure with varying response level. In the end people still got pesky Telemarketing calls.
To delight of all telephone users in India, TRAI (Telecom Regulatory Authority of India) has come up with a common and easy procedure for Do-not-call, irrespective of telecom service provider you use. 1909 is the magic number in focus.
Either call 1909 or send SMS by typing START DND to 1909
Telephone calls or SMS sent to this number, 1909 are FREE.
Do not call request should be activated within 45 days of your registration.
No, I love telemarketing calls – If for a strange reason you love telemarketing calls and want to cancel your do-not-call request, then you can call 1909 again. Alternatively, you can send SMS by typing STOP DND to 1909
In case you still receive telemarketing calls after 45 days of registration, file a complaint with your telecom provider. Why wait? dail 1909 and get freedom form pesky telemarketers. [Photo Credit: Google's Doodle]