Most annoying part for a Vista user is UAC pop-ups that will appear now and them. One keeps clicking continue button as if computer belongs to someone else!
Yes, you can take care of UAC in Windows Vista by: Open Control Panel, user Accounts, click Turn User Account Control Off, click yes to the UAC prompt, clear check box , click OK and restart the PC.
Besides this, here is extremely useful utility 'TweakUAC'  that let you control UAC on Vista system with ease. A small utility that can quickly turn UAC (User Account Control of Windows Vista) on or off, or make UAC operate in quiet mode. Here is simple procedure to use it: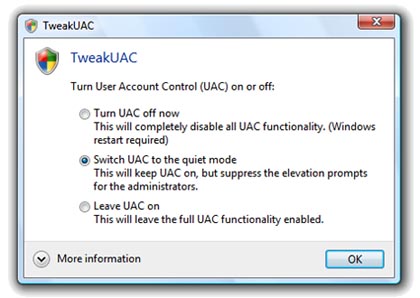 Click on download, then select save option.
Double click on downloaded file.
Click continue/ok on permission & license pop-up box.
Then select the UAC option among, ON/OFF/Quiet and its done.
TweakUAC: Website – More Info – Download
Very handy utility to take care of UAC popups and live life easy using Windows Vista, what say?