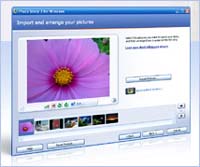 Newer DVD players have functionality to play CDs or DVD containing JPG image files. However, few DVD players cannot play CD/DVDs containing JPG or BMP Image files.
So, how to make a CD or DVD disc containing photos that can be played on such DVD players? For this you need to convert photos into Video format (like AVI).
Using free software like Slide Show Movie Maker you can create an AVI video file from a series of .bmp or .jpg images. It works fine on Windows XP (not supported on Windows Vista). It is free and lite program to create photo slideshows.
Then we have Microsoft Photo Story 3 for Windows XP. It allows you to create slideshows using digital photos. With a single click, you can touch-up, crop, or rotate pictures.
Add stunning special effects, soundtracks, and your own voice narration to your photo stories. Then, personalize them with titles and captions. However, to burn on DVD it needs installation of a paid plugin.
While above two options work well on Windows XP – VCD Menu Lite is a cool free option for Windows Vista users. It is a free Video CD / DVD menu & title page generation program for Windows.
Add this utility to your video toolkit and quickly produce simple but attractive menus as front-ends for your VCD / SVCD / DVD movie and slideshow presentations. Pick your colors, type in titles and menu captions, grab the frames from your movie clips.