There are few emails you just do not want to delete or lose. Ever wanted to backup email messages from multiple applications and account in secure archived form?
MailStore Home is possible alternative to backup, archive and burn your email messages for future use. It can archive emails from webmail services such as Gmail and Yahoo, Microsoft Outlook, Outlook Express, Windows Mail, Microsoft Exchange Server Mailboxes, Mozilla Thunderbird and SeaMonkey.
It offers one click backup with ability to perform quick search from archived email messages. It has integrated CD/DVD burning utility to backup your archives with just one click.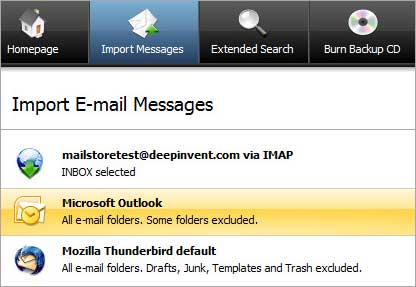 To conserve disk space, MailStore Home saves only a single instance of each attachment and applies a smart compression algorithm. You can preview archived messages directly in MailStore and reopen them in your local e-mail client (e.g. Microsoft Outlook).
Download MailStore Home (2000/XP/2003/Vista), a free application to backup, archive and burn emails on the fly. Premium version is also available for more advanced usage.