Is your current DVD ripper taking lot of space, time and resource to perform simple task of ripping a DVD? Well, taste the change with free single click DVD Ripper program 'BitRipper'. With a single click you can backup your favorite DVD in AVI format on the hard drive.
This software is very lite and does not put much strain on system resources. It does the ripping and conversion of video format to AVI at the same time. Just put DVD in the drive and click on start ripping button and you are all set. You can also stop and pause the ripping process.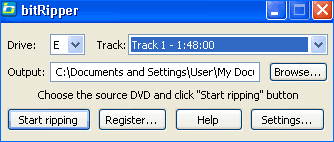 Besides default settings, you can customize format of final ripped video file by using settings options. You can set audio, video codec, resolution and aspect ratio of final video. Download BitRipper to rip DVDs on the fly.