Want to convert your Powerpoint presentation into a smooth flash movie in no time? Well, check out free application iSpring – it can conver PowerPoint presentation into a Flash movie in a single click.

With this conversion, you get all advantages of Flash format like compactness, easy distribution, high compatibility with all browsers. Resultant Flash movie is smooth without you having to configure too many options.
It supports animations, action buttons and hyperlinks on Slide Masters. It also supports embedded music, audio narrations and over 180 PowerPoint animation effects. You can access iSpring within Powerpoint via handy toolbar.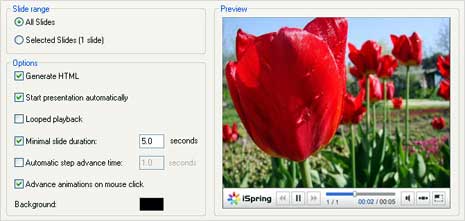 Just open a powerpoint presentation and click on 'publish' button to generate a quick flash movie. You can also use publizing wizard to configure other options and publishing flash movie to a local folder and sharing it.
Download iSpring free version [link] for quick conversion of powerpoint show into flash movie – very neat and fast. For advance features, PRO version of the software is also available.