Are you annoyed with opening of previous webpage(s) on pressing backspace key on the keyboard? While filling a web form, we hit backspace to change cursor location but this sometimes opens the previously browsed webpage and you have to start all over again. You can easily avoid this by disabling backspace key in Google Chrome and Mozilla Firefox browsers using 'Stop Backspace' and 'Disable Backspace Navigation extensions respectively.
Google Chrome: Stop Backspace extension
1. Launch Google Chrome browser on your computer and open Stop Backspace extension [Not available, chrome.google.com/webstore/detail/gafonhphlnckhffodlclkcadifplniag] download webpage. Click install button for automatic download and installation.

2. Once extension is installed, reload all tabs (preferably restart Chrome browser). Now press backspace key, Chrome browser will not load previously opened webpage. You can still open previous webpage by manually clicking back button at top left part of the top menu using mouse.
Firefox: Disable Backspace Navigation plugin
Just like above Chrome extension, Firefox users can install and use "Disable Backspace Navigation" plugin. This disables opening of previous webpage(s) when backspace key on keyboard is pressed. However, you still navigate to previous webpage by manually clicking back arrow key on left side of menu bar using mouse.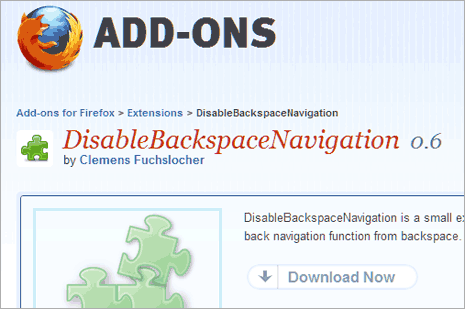 1. Launch Firefox browser and open Disable Backspace Navigation plugin download webpage. Click Add to Firefox button to start download and install.
2. Then click on Restart Firefox button or manually close and open Firefox browser. Now you can use this Firefox plugin – pressing backspace will not make Firefox open previous webpage on your Windows computer.