Skype desktop version of software will now display third party advertisement (ever since it was acquired by Microsoft). Advertisements are displayed in non-obtrusive manner on the Home tab and calling window in the Skype application. By default, Skype software use your non-personal identifiable demographic information to decide on type of ads being displayed there. Such data is sharedby Skype with advertisers to display appropriate advertisements. You can disable this feature and prevent Skype to use and share your user profile data with advertisers.
Is there way to Remove advertisements in Skype
Advertisements are only displayed for users without Skype Credits or Skype subscription. Hence, if you are paid Skype user – no ads will be displayed. So to remove advertisements you need to buy Skype credits or subscription.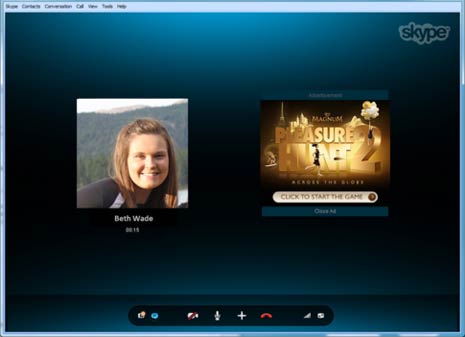 As seen in above screenshot, advertisement is displayed on the calling screen (very similar to ads displayed in Yahoo Messenger). Additional ads may appear on the home tab of Skype window when you login fresh. [Image Credit – Skype Blog]
Prevent Skype to use Profile information to show ads
1. Open Skype software and login into using your Skype account. Then goto Tools > Options using top menu option. Click Privacy Settings tab on the left side.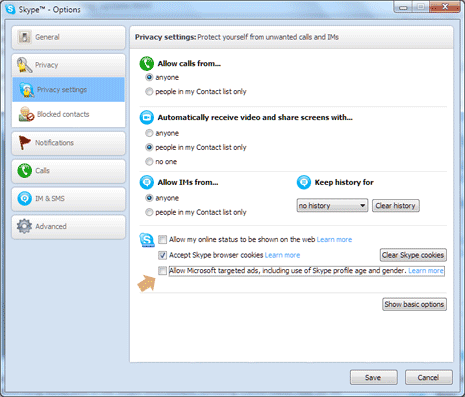 2. Then click to uncheck (no tick) Allow Microsoft  targeted ads, including use of Skype profile age and gender option. Then click Save button at the bottom. This settings change will prevent Skype to use and share your profile data with advertisers to display advertisements.
Do not see that option? If you are using older version of Skype software, you may not have the above option. You can update Skype software by going to Help > Check for Updates at the top menu to get this option in your Skype program. Now Skype installs Bing Bar during Skype update process, make sure you uncheck Bing Bar option during update to prevent its install on your computer. [Originally Published on Mar 08, 2011 – Updated on June 14, 2012]