Google wants you (the user) to have complete control of data created and stored on Google while using different Google services like search, docs, youtube, picasa and many more. You can easily checkout summary details of your Google account and associated Google services in Google Dashboard webpage. Taking one step further, you can download, export and save copy of your data stored within Google services using online 'Google Takeout' tool.
Downloading your Google data with Google Takeout
1. Open Google Takeout service (google.com/takeout) and then login into your Google account whose associated data you want to download.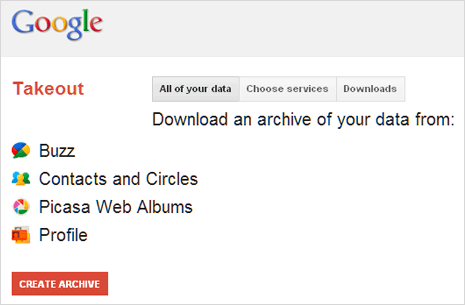 2. By default it will select all available Google Services from which your data is downloaded. As of now, it supports: Google Buzz, Contacts, Picasa Web Albums and Profile information. Click Choose services tab at top to remove specific service from download data list.

3. Then click Create Archive button to start downloading of your data stored within selected Google services. You may get prompt to enter password of your Google account again, even if already logged in.
The downloaded archive file will have large size if you had lot of  Google account and services usage activity – thereby creating lot of data on Google for its services. [via Google blog]
Google Takeout video: the Data Liberation Front
Google Takeout: Things to Note
1. Data downloaded using Google Takeout service is is in portable and open formats. Hence, it is easy to import to other services quickly for further usage.
2. More Google services will be added to the current list of services in future. Possibly covering all services and enabling user to download data stored within those Google services.
3. Since downloading of personal information is invovled, you will get prompt to enter password at various stages to initiate the downloading process while using Google Takeout service.