Upload, viewing and sharing photos is an important routine among Google+ Plus users. Google has added few new features and  improvements to photos section of Google+ Plus service. Now you can view photos is cool full screen slideshow format with automatic toggling of photos. Google+ Plus has also added feature to download complete photo album as one zip file.
Download full Photo Album as zip file on Google+
1. Open any photo album (for example: http://goo.gl/5aNNA) on Google+ Plus. You should see thumbnails of photos contained in the photo album. Click on More button at top right section.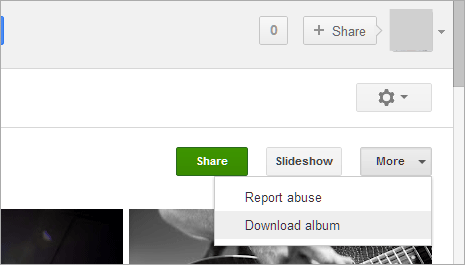 2.  Then click Download Album button to start downloading full photo album as one zip file. This for sure offer an easy way to download your favorite photos being shared by users on Google+ Plus. Also, it saves time with full album download as against single photo download one by one. [source]
Disable 'Photo Download' option in Google+ account
While few users love to share all uploaded photos with connections on Google+ Plus, others may find this too intrusive. Fortunately, you can disable this photo download feature in your Google+ Plus account.
1. While loggged into your Google account, open google.com/settings/plus URL for settings webpage. Scroll down to the bottom and look for Photos section.
2. Click to uncheck (no tick) the "Allow viewers to download my photos" option. This will disable photo downloading button and feature on your Google+ Plus account.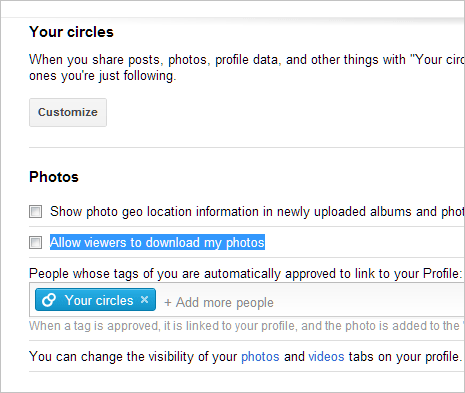 Besides easy downloading of photos, Google+ Plus has made photo viewing a pleasurable experience by adding full screen slideshow option. You can use above settings to fully control they way you want to share your uploaded photos on Google+ Plus.