Microsoft has released Service Pack 1 (SP1) software update for Microsoft Office 2010 Windows users. You can grab this free update for Office 2010 software on your Windows PC for improvements in stability, performance and security. If are not regularly updating Microsoft Office 2010 software, then you must install Service Pack 1 update. It contains all the cumulative updates that were released through April 2011 and June 2011.
Ways to install Office 2010 SP1 update on Windows
1. Direct download – You can manually download Service Pack 1 update files for Microsoft Office 2010 software on Windows PC. Checkout download links for 32-bit package and 64-bit package files. Before you proceed with download, make sure you check if version of your MS Office is 32bit or 64bit for downloading correct package.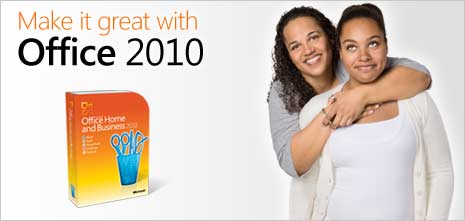 2. Microsoft Update – Other (recommended) method for installing Service Pack 1 update to Microsoft Office 2010 installed on your computer is using Microsoft Update. Just goto Microsoft Update website and follow on-screen steps to install required updates. It will automatically detect which products are already installed and apply updates accordingly.
You can also download Service Pack 1 update for individual Microsoft Office 2010 applications. Open this webpage to grab download links for individual SP1 update files for specific Office 2010 applications. This Service Pack 1 updates fixes lot of bugs and add few enhancements features like support Office 365 and new options in few Office applications. Checkout complete list of new additions with Service Pack 1 update of Microsoft Office 2010 for Windows.