Apple has released new version of iTunes application. You can download iTunes 9 for your Windows or Mac computer. Installation package also includes QuickTime 7.6.4 player. As expected, new version come with loads of new features and enhancements for managing favorite movies, TV shows. Apps, games, podcasts and more.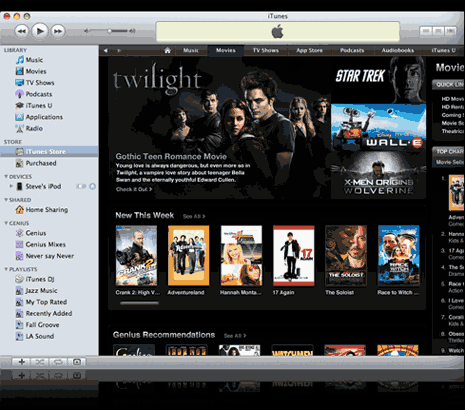 New Features of iTunes 9
1. iTunes LP to listen music along with animated lyrics and liner notes, watch performance videos, view artist and band photos and enjoy other bonus materials.
2. Home Sharing allows you to browse iTunes libraries of up to five authorized computers in your house, import what you like, and automatically add new purchases made on any of the computers to your own library.
3. Redesigned iTunes store comes with refined navigation. New iTunes Store makes it easy to explore songs, movies, TV shows, and more.
4. Tunes Extras provide special features you can experience right in your iTunes library. Watch interviews and trailers, view photos, and more on your Mac or PC.
5. iTunes brings new, more flexible ways to sync your media from your computer to your iPhone or iPod. It is easier to organize all the apps on your iPhone or iPod touch because now you can do it right in iTunes, right from the computer.
Download new iTunes 9 for Windows XP, Vista and for Mac version for Tiger, Leopard, Snow Leopard to enjoy all the above new features.