Do you love watching cool video content on Hulu.com website? Do you want to save these videos on your computer for offline pleasure viewing? Hulu Grabber is a free application that can download any video from Hulu website on your computer. After the download, you can play Hulu videos like you play any video stored on the computer. To get started: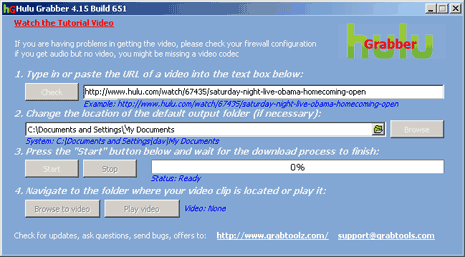 1. Download Hulu Grabber application
2. Double click on download file to start the installation.
3. After install, open Hulu Grabber application.
4. Type or paste the URL of Hulu video that you want to download.
5. Select destination folder where video should be saved.
6. Click the Start button to start the video download process.
Depending on the size of video download, it may take less or more time to complete the video download. Hulu Grabber for sure is one cool application to download videos you like on Hulu website, interested?