If you are tired and bored of Digsby or your current IM application – then checkout all new Trillian Astra multiple instant messenger app. It has cool glitzy look with loads of features to help you for better IM chatting experience. Using this IM app you can connect to IM accounts at AIM, ICQ, Windows Live Messenger, Yahoo Messenger, Jabber/XMPP, Google Talk, MySpaceIM, IRC, Skype, Twitter and Facebook.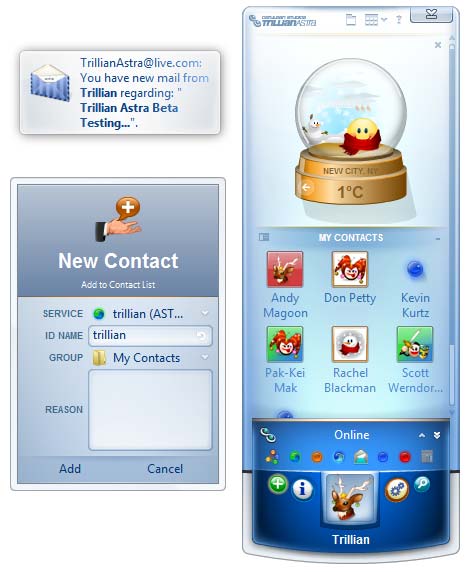 Features of Trillian Astra IM app
1. Connect with different IM accounts like Yahoo, Gtalk, Skype.
2. Support drag drop for sharing of media files with chat buddies.
3. Integrated notification system for new messages and tweets.
4. Handy contact list can float or be docked as a sidebar.
5. Track IMAP and POP3 account status.
6. Theme support from minimal to ultra glam look.
7. Tabbed chats with text, emoticons, and pictures.
Also See – 5 Best All in One Web Based Instant Messengers
Besides above, Trillian Astra loads of other features that IM addicts will find very addictive and useful. Download Trillian Astra for Windows / tablet PC. Version for iPhone and MAC is under development and should be available soon. This for sure look fab and useful, what say?