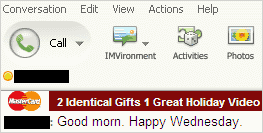 Yahoo Messenger is testing out new feature that may not please some of its users. Till now we have seen image advertisement appear at the bottom of buddy screen of Yahoo Messenger.
Well, get ready to see advertisements in chat window. As seen in image, Yahoo is testing to splash your chat window with ads in an attempt to earn some money and stay afloat (and keep Microsoft away?). Relief is, ads are non intrusive and will float at the top of the chat window (hopefully).
As pointed by Cnet, "… the ad shows at most once per day per user and scrolls away" as an IM conversation continues, Yahoo said. "Right now the ads are being tested in versions of Yahoo Messenger 7.0 and above." Yahoo can whip up some serious earning if they are able to successfully implement this new feature to Yahoo Messenger – that is: advertisement in chat window!