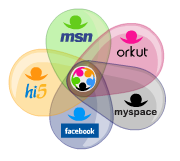 Power is a new startup that is creating lot of buzz these days. It wants to be one stop for all your socializing needs irrespective of social websites you use.
How? Well, it neatly integrates access to number of popular social websites from one place. You can simultaneously login into social networking websites like Orkut, Myspace, Hi5 or access instant messenger of your choice.
Just select the website and start browsing via power interface. Did test drive to Orkut, interface looked very neat and it looked quicker. To get started, sync your profiles at different social networking websites like Myspace, Orkut etc.
This is will result in common buddy list showing collective friends active on different social networking websites. Checkout Power, it support lot of popular services and more will be added in future (hopefully) – Looks good!